About Us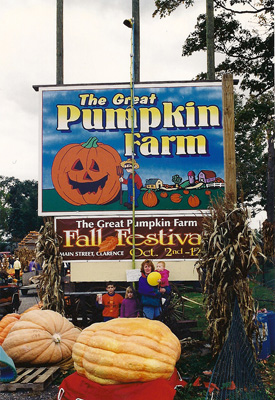 I'm not sure what got me started into this fantastic hobby, probably a picture on one of those slick seed packets with a pumpkin the size of a small car, or sunflowers reaching up to the gutters on a two-story house. It doesn't really matter how I started, but 20 years ago I was bitten by the giant gardening bug and I've loved every minute of it ever since.
Sunflowers have been my favorite and my personal best is 20' 8".
If you look close at the picture (left) you will see my family standing in front of my record sunflower, it's propped up against the middle pole with the head about 5 feet above the top of the sign.
I also grow wide headed sunflowers, the one my son is holding (below) measured 25 1/4" across.
While the rest of my family courteously tells me that I am the greatest gardener of all time, they really think I'm nuts! 'Yeah dad, that's great, now go play in your compost' is all I usually hear. My oldest son is the only one that seems to be bitten as well. This year he's informed me that most of my ideas are old and outdated and he is going to 'show me the way'. Nothing like a little friendly competition. We'll see!
This year, in addition to sunflowers, I'm going to try my hand at tall corn. I've already secured 9 different strains of mostly tropical varieties. While I like to think I have a chance of breaking any record, the current one is 31' and has held up since 1946. That's a 64 year old record, and it is the oldest unbroken giant gardening record. Take a look at our corn page for some great pictures and tips on how we can all take a good shot at it.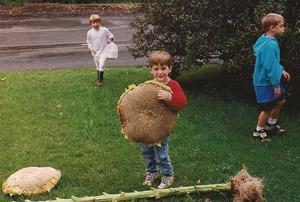 I'm also going to try giant tomatoes. Even though the record of 7lbs, 12oz is only 24 years old, this will be tough as well. However, 2nd place of 7lbs, 7oz is 96% of the way there!
Please have fun going through the site. I've tried to make it interesting, informative and most of all fun.
Just be careful and watch out for the bug that got me!
- Steve